Mastering content marketing on LinkedIn's platform is easier than you would believe. It can be difficult to know when to share. Want to make the most of LinkedIn to help you develop your business? Are you stumped as to what to post for maximum impact? Here are seven steps that you can use to create a LinkedIn content strategy for your business:
Step #1: Determine your current marketing objectives.
Outline goals to give your LinkedIn content strategy structure. What do you aim to achieve using LinkedIn as a team? The following are some of the most typical LinkedIn objectives:
Increasing the number of prospective clients for your company. 

To raise brand awareness, companies should pool their resources. 

To acquire more customers, cultivate trust and credibility. 

Increasing the number of leads in your sales pipeline.

Increasing the number of people who sign up for trials or demos.

Creating a consumer base that is dedicated to you.
You can pinpoint the type of content your team should develop once you've decided on your goals. Sharing your company's postings, for example, can help with brand awareness, while linking to gated content can aid with lower-funnel goals like lead generation.
Step #2: Know Your LinkedIn Audience.
The next step is to figure out how to best place your LinkedIn content. To what industry or position should you tailor your content? Should your articles be targeted towards novice or advanced users? You can get the answer to these questions by knowing your audience metrics.
Navigate to your LinkedIn company page and pick Followers from the Analytics drop-down to get these stats. To see demographics like industry, job function, seniority, and location, scroll to the bottom of the page. Similar demographics for company page visitors may be viewed so you can learn who follows and views your page.

Additional Tip: Use LinkedIn Polls to Conduct Market Research
On LinkedIn, asking questions can be an excellent method to garner engagement or conduct market research. Your followers may not always want to type lengthy responses.
Add an interactive poll to your LinkedIn post when you want to give your followers an easy opportunity to engage. Each poll includes a unique question with up to four possible responses and can last up to two weeks. Even though queries are limited to 140 characters, you can use the 3,000-character limit in the post to provide more background or set the stage for the query. You can always encourage users to respond in the comments if you can't narrow down the available solutions to four alternatives. All of the typical engagement options, such as comments, responses, and shares, are available in LinkedIn polls.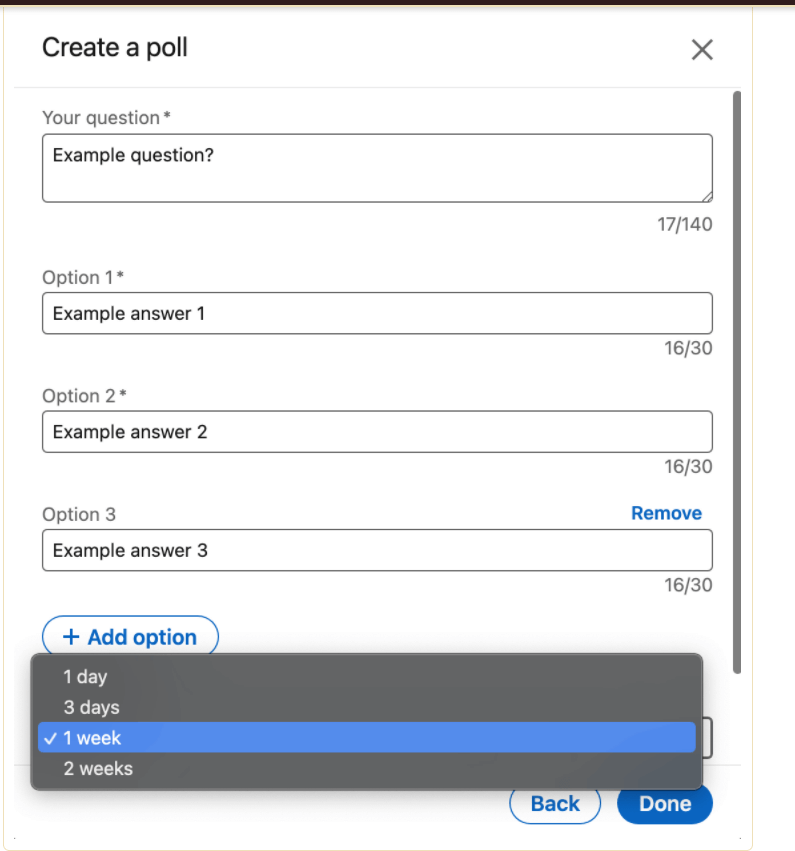 Step#3: Provide Long-Form Written Content to Build Authority:
You should submit content on your LinkedIn page at least once a week, or follow LinkedIn's guidelines and post every business day. Following are the type of content that you can consider posting:
LinkedIn Document Posts 
You might be tempted to write a long explanation post or link to a more extensive blog post if you have complex information to present. You can post PDF files to LinkedIn documents that users can peruse through in their news feed or save to read later. Although documents can be up to 300 pages long, most organizations keep them short, releasing only 10 pages or less. 
Documents are commonly used for:
highlighting the most important aspects of a complex idea 

Step-by-step instructions are given to followers. 

A research report's key findings are shared. 
The Dell Technologies LinkedIn post below, for example, includes a paper with significant quotes from the Dell Tech Summit. The message contains a link to the complete video of the event, which followers can view.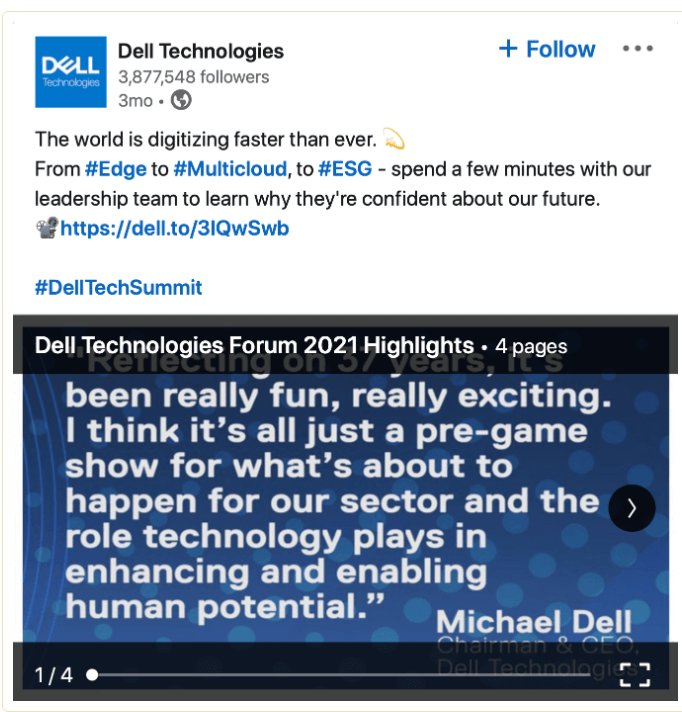 LinkedIn Articles
Because you can include considerably more information in a blog post than you can in a standard LinkedIn article, linking out to blog posts is a terrific approach to educate followers and share your company's lessons. However, you don't have to link to an external website if you wish to offer blog-style content. 
Instead, you can post an article to your LinkedIn corporate profile directly. LinkedIn articles are perfect for sharing thought leadership because they can contain up to 110,000 characters (around 15,000 words).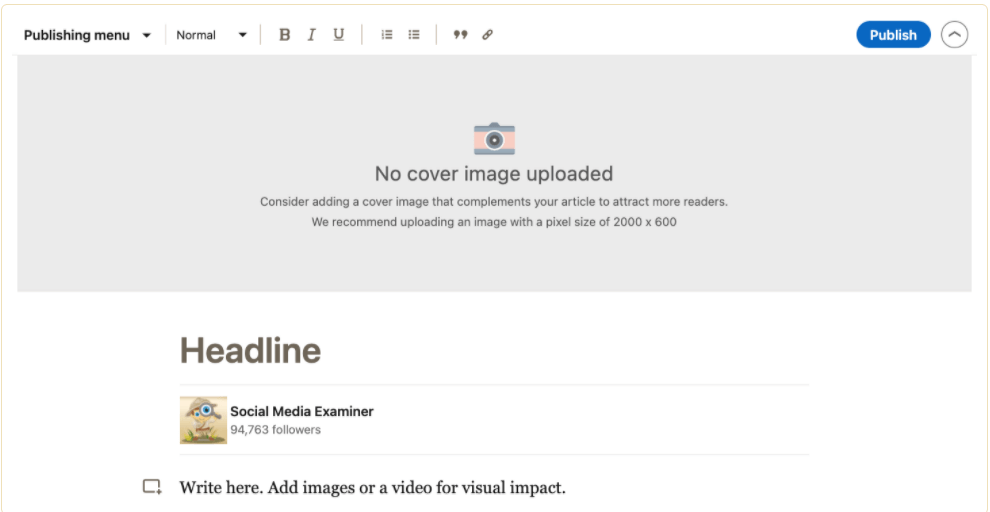 Although LinkedIn articles can and should be unique, they are not required to be. Instead, you can republish the finest material from your company's blog using LinkedIn as a syndication platform. You'll gain more views and be able to advertise your best content on another platform this way.
Newsletters on LinkedIn
Articles are a wonderful choice if you plan to produce long-form LinkedIn content occasionally. If you plan to publish them weekly or monthly, though, you might want to consider converting them into a newsletter.
When users sign up for your LinkedIn newsletter, they will receive an email notification whenever you publish something new. They can then respond to or comment on your content. That means you may utilize newsletters to build a community of subscribers while increasing visibility and engagement.
Jessi Hempel, for example, is the author of the Hello Monday newsletter shown below. Interviews, podcast highlights, and LinkedIn Live events are featured in the weekly newsletter, which covers work-related themes.
Step#4: Publish Native LinkedIn Video
When you share high-quality articles and posts on LinkedIn, you may expect at least a few shares. Video may be a great option if you want your content to reach new people.
LinkedIn users will share video content 20 times more than any other type of content- according to the company. As a result, sharing LinkedIn native videos could help your company reach a far bigger audience.
LinkedIn allows movies of up to ten minutes in length, but yours can be much shorter. For example, in this brief Microsoft video, essential recommendations from a blog post are shared, along with a link to the blog post for interested viewers to check out.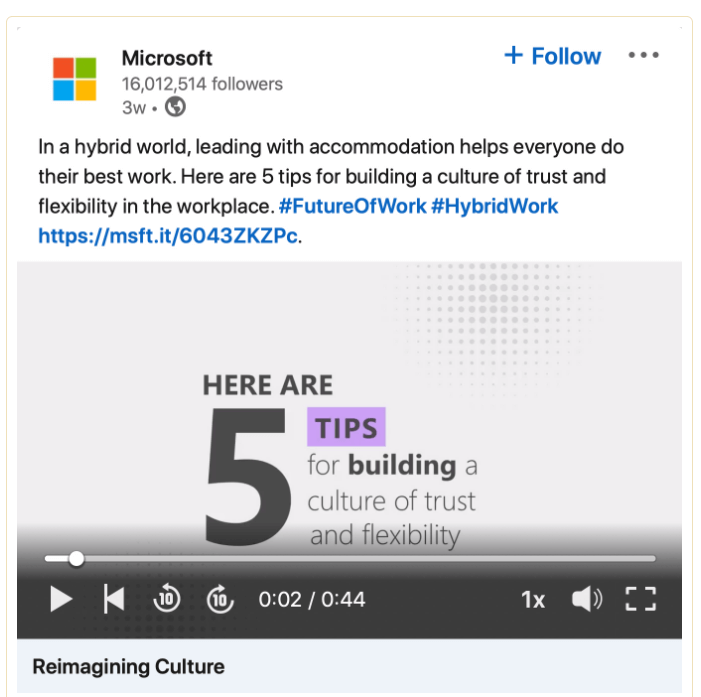 To choose the appropriate video duration, format, and themes for your audience, experiment with several alternatives to see what works best or poll your audience for feedback.
LinkedIn Live:
LinkedIn Live may be a better alternative if you want to increase even more engagement with video. This platform, as LinkedIn's live streaming option, allows you to hold virtual events and communicate with your audience in real-time like in this Adobe Creative Cloud example.
LinkedIn Live content receives seven times more reactions and 24 times more comments than pre-recorded video. As a result, live events could significantly increase the engagement rate of your corporate page.
Step#5: Curated Content to Complement Owned Content
Your company may have a lot of news and information to share. However, creating new LinkedIn content isn't always practical or essential. After all, content creation necessitates resources that your team may lack or that could be better utilized elsewhere.
So, how can you keep your audience interested without spending a lot of money? LinkedIn has made it simple to identify and share popular articles. That way, you can deliver value to your audience and participate in critical industry dialogues while keeping your team's time input to a minimum.
Go to the Content tab on your company page to identify trending stories to share. To identify content that is likely to engage your audience, select or add industry to the filter. To narrow down your options- you can use filters such as area, job function, and seniority.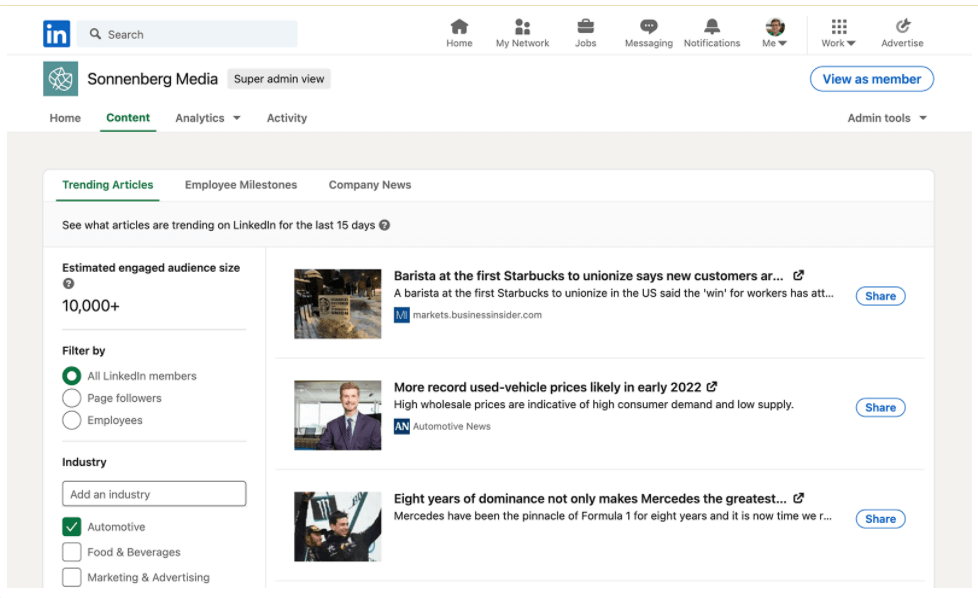 To publish an article, click the Share icon to the right of it. To share the material with your audience, write a brief caption and click the Post button.
Step#6: With LinkedIn Ads, you can expand your organic reach
An advertising budget might assist you in achieving more aggressive marketing goals or achieving your objectives more quickly. You can use LinkedIn advertisements to showcase your greatest content to specific audiences for everything from brand awareness to conversions.
If you've already discovered top-performing organic content that you wish to promote, use the Boost Post button above the post to do so. With only a few clicks, you can start promoting your content with an aim and an audience.
Instead, use LinkedIn's Campaign Manager for a more complicated campaign. You can choose an objective that fits with the stage of the sales to funnel you want to target once you create a new LinkedIn campaign, such as awareness, consideration, or conversions.
Then, utilizing demographic data, your customer data, or LinkedIn's lookalike data, create an audience. People who have interacted with your corporate page, videos, events, or website can also be retargeted.
Use LinkedIn's conversion tracking tools to automate the process of tracking leads, sales, and subscriptions on your website. You may also use video or native lead generation forms to target in-app conversions.
Do you have trouble deciding on an ad type, creativity, or target audience? You can design two campaigns to compare and contrast. Make sure they're identical except for the variable you wish to test, then run them for a few days at the same time. After that, compare the essential KPIs and allocate the remaining funds to the winning campaign.
Step #7: Adjust Your Content According to LinkedIn Analytics
Are you on track to meet the objectives you established for your company's LinkedIn marketing strategy? Monitoring the stats on your LinkedIn page might help you keep track of your progress. Examine your marketing objectives to determine which KPIs should be most important to your team. 
The following are some of the most significant KPIs to keep an eye on: 
The number of followers on your corporate page represents how quickly it expands. 

The impression is a metric that shows how frequently your content appears in news feeds. 

The rate at which individuals interact with your material is known as the engagement rate. 

The click-through rate (CTR) is a measurement of how often users tap on your links to view them.
Check your website statistics to get a more complete picture of your company's LinkedIn data. You can track conversions like- 
contact form submissions, 

free trial signups, 

email list subscriptions, and 

eCommerce transactions using tools like Google Analytics.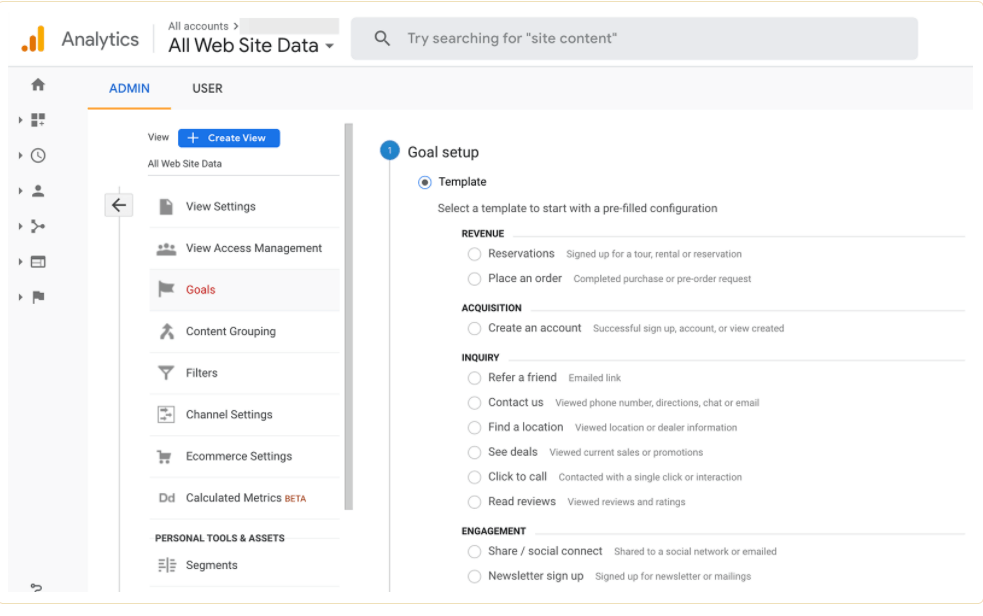 Go to Campaign Manager to track LinkedIn advertising outcomes, where you can track KPIs like: 
Cost per click (CPC) is a metric that displays how much you spend on each website visit. 

Leads are the number of times a prospect has filled out a lead generation form or completed a lead event. 

The number of times prospects executed the conversion action you requested is reflected in conversions.
If you're currently meeting your objectives, you can improve your performance by identifying and boosting high-performing content or adverts. For instance, you might develop a hit LinkedIn Live event into a regular series or broaden your advertising audience to reach more people with your greatest campaign. 
If you're not meeting your objectives, keep experimenting to improve your outcomes. You have countless options for changing your approach and getting better results, from content types to target audiences to advertising objectives.
Takeaway:
LinkedIn can help you position yourself as a thought leader in your sector by incorporating it into your content marketing plan. Posting timely and relevant information that speaks to your audience not only creates trust but can also lead to more opportunities to share your knowledge with others outside of your immediate network. LinkedIn provides countless options for acquiring clients and producing cash, ranging from organic posts to paid ads. You can determine the ideal technique, build a LinkedIn content strategy, and grow your business successfully if you have defined goals to achieve and a target audience to reach. Hiring a digital marketing agency for LinkedIn marketing would be a great option. So, why wait? Pick the best one to get top-notch results!