The way marketers connect with and sell to B2B audiences has altered in the digital age. There are different digital marketing strategies for B2B Business. Digital marketing requires a more integrated and flexible approach as technology advances.
As a marketer, you must adapt to changes to match your audience's expectations. You need to optimize your digital marketing strategy to promote digital transformation and ensure you're communicating to the right people on the right channels to ensure your business is agile.
As a B2B company, you must be able to communicate with other businesses, which necessitates a different approach than engaging individual customers. In this article, we'll look at the most effective digital marketing methods and delve into the world of B2B marketing.
1. Create a website for your business
A business website is an asset. Business websites are a given. Websites are living, breathing organisms that require constant monitoring and care to thrive. That means you must make sure it highlights your knowledge, offers potential clients solutions, and serves as a point of contact for customers.
Your company's website should serve as an industry resource, allowing customers to learn what you do quickly. You can add technical and esoteric explanations later as visitors browse your site or download a resource like an eBook. Most essential, your website should allow you to create leads and collect information from customers.
Your B2B website must:
Make sure you're talking to the right people.
Include unambiguous calls to action, such as "get a quote," "arrange a demo," and "download a white paper."
Include current testimonies as well as company logos.
Use a blog or custom landing pages to provide up-to-date and compelling material.
Include connections to your social media pages on your website.
Include figures or research that are relevant to the sector.
To increase traffic, create relevant and trustworthy backlinks.
Be regularly reviewed and updated.
It can take a long time for a B2B company to research a product or service. It's not the same as someone shopping for the best deal or the quickest delivery time. There are frequently multiple stakeholders engaged, which might prolong the process. As a result, the more information you can present on your website that addresses your audience's problems and offers answers, the better.
2. Make Use of SEO and Content Marketing
It's impossible to gain new visitors to your site without SEO, and you can't expand your business without visitors.
In a nutshell, SEO aids search engines like Google in finding your website and elevating it in the results. You want to be on the first page of any search to be found. Because SEO is so difficult, it's a good idea to employ an SEO specialist or engage with a company that can do it for you. The idea would be to identify and use the most effective keyword phrases for assisting search engines in finding your website.
To increase SEO, you should also consider other marketing strategies. Having a blog is essential since it improves SEO and establishes you as an industry thought leader. Also, it attracts a high-quality audience. Your knowledge can be extremely valuable to current clients while also assisting you in attracting new ones to your website. Keep in mind that the B2B cycle can be lengthy, so if you can entice clients back to your site with compelling content, you'll be more likely to build trust, which will lead to them completing the conversion funnel.
Outside interaction and guest blogging possibilities that link back to your blog and website should also be considered. This is an efficient digital marketing method for increasing the exposure of your content.
With the rise of platforms like TikTok and Instagram, video is also a very popular content type that offers countless opportunities to interact and educate your audience. Infographics, e-books, white papers, and case studies are examples of other sorts of information.
3. Combine your offline and online marketing efforts
Integrating and optimizing your online and offline marketing efforts is critical for getting the most bang for your marketing budget. You can connect the two smoothly to reach out to as many businesses as possible while still providing excellent customer service.
The following are some examples of B2B marketing online and offline integration:
Use a landing page, QR code, or keyword to bring offline activities online.
At offline events such as conferences or networking gatherings, collect email addresses.
Take advantage of custom coupons that can be utilized on a website or a landing page. You'll know the buyer came through an offline ad once they've used them.
Encourage people to follow you on social media by holding a contest or offering a free eBook download.
You can track offline marketing activities by using custom URLs.
Offer online-only incentives, such as a newsletter subscription for a 20% discount on a company's first order.
Linking your B2B marketing online and offline makes tracking campaign success much easier, and it might help you engage a key player in a potential business that you might not have been able to reach otherwise.
4. Make use of social media marketing.
It's tempting to avoid using social media in your B2B marketing approach. It can be time-consuming and takes innovation to keep visitors interested. Social media is an important avenue for every business, and new platforms like TikTok and WhatsApp are gaining traction faster than traditional networks like Facebook.
Social media marketing is the second most popular channel behind search engine marketing, with 83 percent of B2B marketers using it. When it comes to the platforms that B2B companies utilize, some are more effective than others at driving engagement. According to the data below, LinkedIn is the most effective platform for engaging B2B audiences, followed by Twitter and Facebook.
Leveraging your blog material is one of the simplest ways to use social networking. Posts that link to useful content provide useful information while also improving SEO. You can also cross-promote across all of your social media channels, but make sure that your message is platform-specific and tailored to the audience on each one.
You may make good use of social media by providing content like:
Industry tips

News from the industry

Answers to a problem

Client or partner testimonials that are glowing

On your website, include links to case studies and whitepapers.

Testimonials on video

Links to your company's instructional videos
Dropbox is an excellent example of a B2B brand that uses LinkedIn effectively. Employees are referred to as 'Dropboxers' since they focus on behind-the-scenes content to promote their manner of working. They make good use of LinkedIn by displaying images and videos of their employees, and promoting relevant blogs, and displaying their products.
Overt sales pitches are the one thing you should avoid on social media. Instead, make sure your material is both informative and engaging to pique people's interests and direct them to your services.
5. Take a look at PPC campaigns
Consider integrating a Pay-Per-Click (PPC) campaign in your digital marketing efforts if your budget allows.
The beauty of SEO and content marketing is that it is quite inexpensive, or even free if you have the necessary skills. However, if you're not getting the results you want, PPC campaigns are a great solution, with easy budgeting to fit your needs because you only pay if someone takes an action – in this case, a click. To guarantee that you understand what's working, utilize a paid media campaign tracker to keep an eye on spending and performance.
Some sites, like Facebook, charge for engagement or impressions or give you the option of paying in different ways. This allows you to segment your audience to achieve your particular goal and maybe a powerful tool for generating leads and increasing brand awareness.
6. Re-define your goals
The wonderful thing about digital marketing is that it has dramatically increased reach. You can spend more money on more effective marketing. With these campaigns, you may target your clients at any stage of the buying process.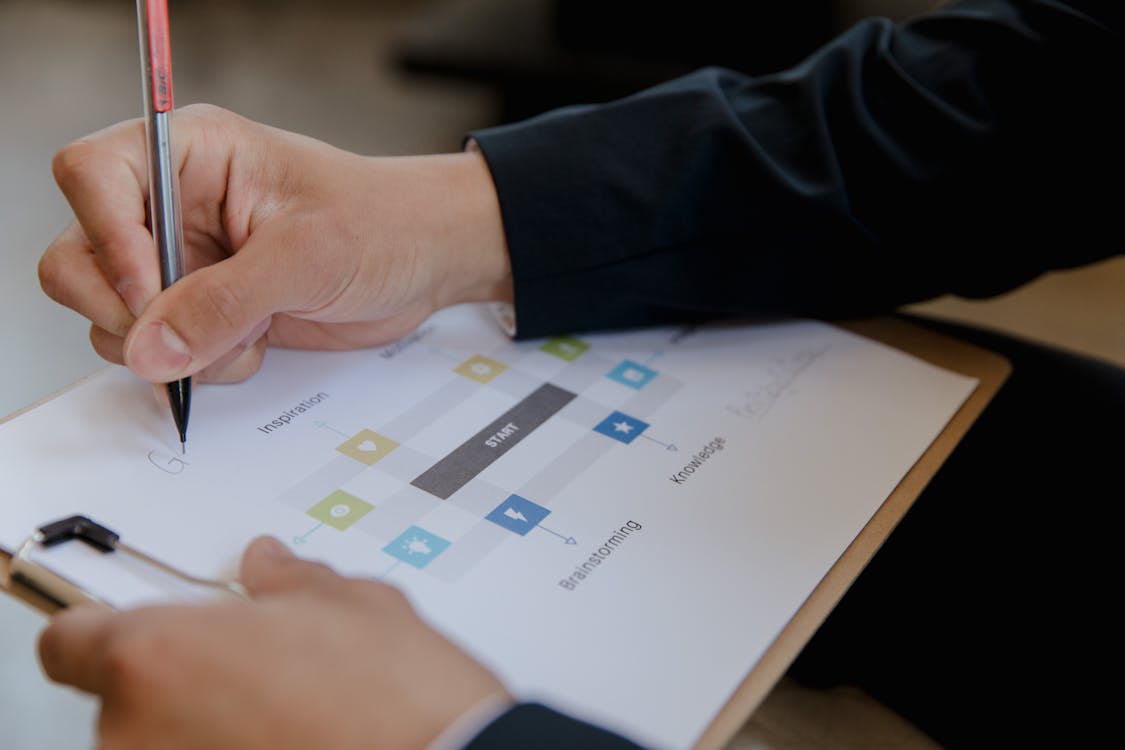 The key is to be creative with short- and long-tail keywords, and check search queries, records to ensure you understand what businesses are looking for. You may also use social media to target businesses on a micro-level. Ad targeting on platforms like Facebook and LinkedIn is sophisticated, allowing you to identify prospects based on job title, education, and even interests.
Using a combination of targeting and results-based analytics to fine-tune your campaigns can help you get the best results for the least amount of money. Google Analytics, for example, is a free tool that may help you figure out how effective your marketing is and how it affects your goals.
Its Time to Start Your B2B Marketing Strategy
The simplest way to start your B2B digital marketing strategy is to list all of your digital assets, such as websites, blogs, landing pages, and social media channels. If you have access to analytics, look for assets that have assisted in the generation of leads or the closing of sales. If you don't have access to this information, look at the resources that received the most visits, clicks, or shares. This will give you insight into what has been working well for your company.
Then, use these data insights to determine where you can expand your resources (such as by creating more social media pages or launching a PPC campaign).
Consider your budget and a media budget tracker to determine where to invest money, and then consult your analytics to determine where you're most likely to see the best ROI.
Create a content calendar once you've determined which digital marketing tactics your company needs to employ. This way, you'll have a plan in place. This strategy should include:
Title/Topic

Where will it be posted?

When will it be released?

Opportunities for link crossover

PPC advertisements

Provider of content
You should also think about using influencers. They can be very effective at spreading your content and message. If you need some ideas, look at brands that have successfully used B2B influencers in their strategy.
Takeaway:
Remember that it is never too late for your company to begin utilizing digital marketing tactics. These six B2B marketing strategies will make it simple to incorporate digital marketing into your strategy. There is one thing that you can do- hire a digital marketing company. It has professionals who implement the right strategy and ensure fruitful results.