Your website must be effective if you wish to thrive in online marketing. How can you determine if it's working or not? The importance of website performance indicators cannot be overstated. Thus, you must know website performance metrics.
The issue is that Google Analytics and other tracking tools provide a plethora of metrics. Determining how your site is functioning, or even which data you should track can be a little difficult. The indicators that create the shape of your site's traffic, from bounce rate to page views, might be difficult to discern.
Furthermore, some of those measures aren't particularly important in the long run. Go through 10 website performance measures that will assist you to determine how well your site is doing overall.
Is It Important to Track Website Performance Metrics?
Aside from the cost and time commitment required to construct and manage a website, measuring website performance metrics allows you to see how users interact with your various pages.
You can see if they're following the road you've laid out for them by distinguishing their behaviors. If they aren't, you may tweak and optimize your pages to get visitors to make the conversion you want.
Metrics on your website can also help you track and diagnose problems with: 
Effectiveness of your content strategy

Keyword ranking

The best traffic sources

Paid ad success

Conversion rates
Essentially, you must track your website performance indicators if you want to know if your internet marketing efforts are paying off. However, the specific metrics you track will differ depending on your sector, target audience, and even where users are in the marketing funnel.
Website Performance Metrics You Should Monitor:
Website analytics provide you with a clear picture of how well your company is doing. While the term metrics may appear intimidating at first, it should not be; these data are just there to assist you.
Before you start tracking every available indicator, figure out which ones are most important to your company. This can be determined by examining your objectives. If you want to climb to the top of Google's first page, you need to keep track of metrics that are related to search performance. That could entail utilizing a service like Ubersuggest to track the terms you rank for.
If increasing web sales is your quarterly objective, you should keep track of conversions, as well as how visitors behave on your site and when cart abandonment occurs. In other words, the metrics you track should be directly related to your objectives. While it may be appealing to cherry-pick the numbers that portray your company in the best light, real change and opportunity come from finding opportunities for progress.
The Top 10 Metrics to Track for Website Performance
While the metrics you track will depend on your specific objectives, there are ten website performance metrics that provide a 360-degree perspective of your website's performance regardless of business criteria.
1. Speed of the Website
While the word "website speed" may bring up images of loading times, there's a lot more to this measure than that. As people's attention spans shrink; it is more important than ever to assess how well your site performs in different speed-related aspects.
These are some of them:
Time to Title:
This time measurement refers to the time it takes for a visitor to request your website and for your site title to appear on the browser tab. For visitors, this is important because a quick title appearance assures them that your site is legitimate.
Time to Start Render:
This time measurement refers to how long it took for the content to appear in the browser after a user request. The faster this happens, similar to the time to the title, the more likely the visitor will stay on the website.
Time to Interact:
When it comes to how long a visitor will stay on your site, time to interact refers to the time it takes from request origination to when the visitor may take an action (click on links, scroll page, type, etc.).
There are more in-depth measures linked with website performance, but focusing on these three can be a good place to start when you want to improve your site's overall speed.
2. Number of Assets
The components that make up your page are referred to as "assets." Consider the following: written content, audio, video, and so on. Each of these items takes time to load behind the scenes. When you have a lot of assets on a page, it will take a long time for it to load.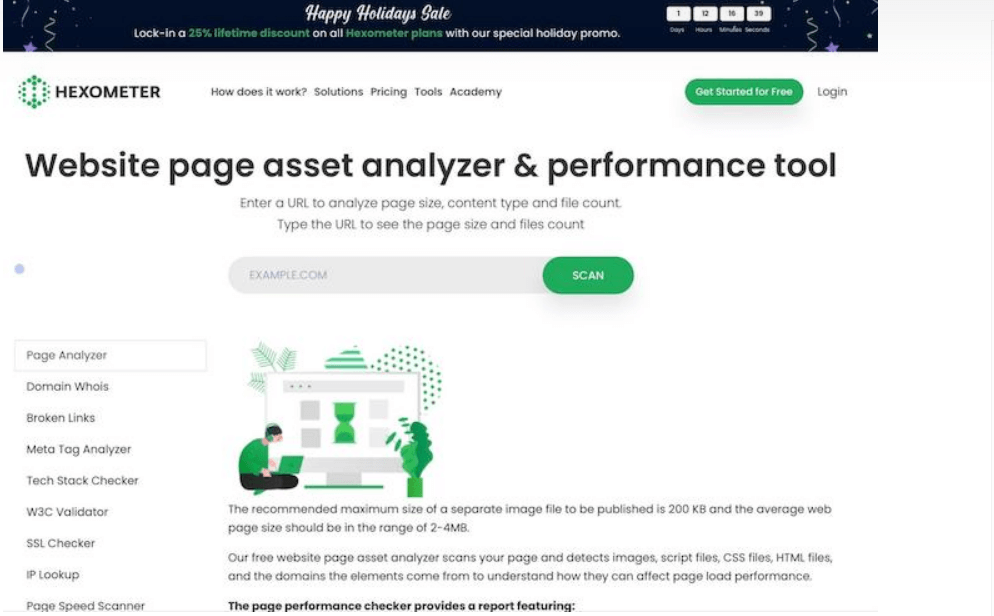 There are numerous tools available to determine the size of your page and assets. If your assets are slowing down your site's load time, you may always host them on an external site to improve on-page load time.
3. Rate of Error
This indicator measures the number of request issues your site generates as a percentage of total requests. If you notice a significant increase in these numbers, you're likely to run into a huge problem. You can detect and correct problems before they happen if you keep an eye on your error rate. However, if you don't keep an eye on your error rate, you can run into problems that bring your entire site down and force you to rectify things in real-time.
4. The Rate of Bounce
This indicator measures the number of visitors who leave your site soon after entering. A high bounce rate can have a negative influence on SEO. It can indicate that your site isn't delivering what it promised in addition to affecting conversions and general performance.
Go to Behavior>Site Content>Landing Pages Report in Google Analytics to find your bounce rate, then scroll down to check bounce rates for particular pages.
5. Unique Visitors
This word refers to a single browser that has visited your site regularly—daily, weekly, or monthly, for example. This measure is useful since it reflects progress. While repeat visitors are beneficial, if you want to grow your brand, you'll need to observe a growth in the number of unique visitors regularly. You will find this indicator under the Audience tab in your Google Analytics account.
6. Source of Traffic
Rather than relying solely on volume, you may determine where your traffic is originating from by tracking traffic sources. This is significant since it allows you to identify the source of your visitors: organic search, social media, or referrals. When it comes to traffic sources, you want to have an evenly-weighted bag. You can rebalance your content approach if it's leaning too much toward one source.
Visit Google Analytics > Acquisition > All Traffic > Channels to check where your traffic is coming from.
7. Rate of Conversion
They say marketing is all about "convert, convert, convert." When you track your conversion rate, you can determine the quality of your leads and the overall effectiveness of your website.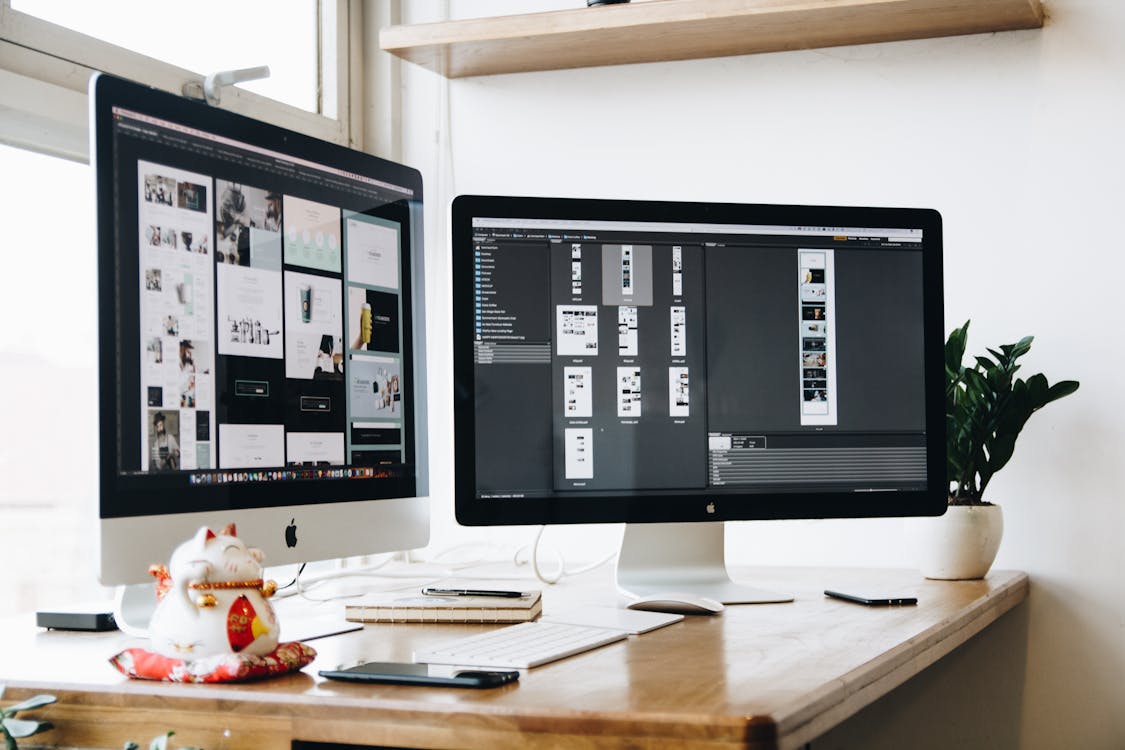 If you have a poor conversion rate but a high traffic rate- for example; you can deduce that your on-page conversion strategies are not as effective as those used off-site. This data enables you to make changes to your site's properties to suit the demands of your visitors better. Navigate to Conversion and then Overview in Google Analytics to see your conversion rate.
8. Website's Top Pages
You should always be aware of which pages on your site are performing the best—whatever that means for your specific objectives.
Keep a watch on which pages are converting and which aren't to this end. You can replicate the success of one page throughout your entire site by analyzing what works. You should keep track of landing pages and exit pages as you evaluate which pages are doing the best.
Landing Pages:
These are the pages that visitors see when they first visit your website. Because we all know you never have a second chance to make a good first impression, these sites must be optimized and run smoothly.
Access Google Analytics, then Behavior, Site Content, and Landing Pages to see how these pages are performing.
Pages of Exit:
The last page a user sees before exiting their session is called an exit page. You can better optimize these pages by identifying them, encouraging users to remain longer.
Go to Behavior > Site Content > Exit Pages to learn more about your exit pages.
9. Keyword Positioning
Although search ranks are always changing, a sharp loss can be concerning. Keyword ranking should be at the top of your list of SEO indicators to monitor. Why? These terms can assist you to verify that your SEO strategy is functioning by allowing you to track your progress.
10. Generating Leads
You are well aware that lead creation is critical to the success of your company. You're also aware of how difficult lead creation maybe, not to mention the fact that it's a hazy area to navigate.
There are three essential website performance metrics that you should track to acquire a more analytical view of your lead generation strategy: bounce rate, average session duration, and click-through rate (CTR). While we discussed bounce rate earlier, here are some reasons why you should monitor CTR and average session duration.
CTR:
This metric determines how many site visitors interacted with a certain CTA and is crucial in calculating overall lead success.
Average Session Duration:
The average amount of time a person spends on your site is referred to as this metric. Longer durations suggest more engaged consumers, but shorter durations indicate that modifications and optimization are required.
Takeaway:
Maintaining a business website is crucial. Make sure that you consider all website performance metrics mentioned above. These metrics will help you acquire a clear view of user activity on your website, as well as how your site is functioning overall, whether you're constructing a brand-new website or simply wanting to tweak your existing site for better performance.
You may make your site considerably more user-friendly by optimizing functions you can control, such as site speed and asset count. This will encourage visitors to spend more time on your pages. While you may not be able to control how your users interact with your site on a technological level, you can surely improve the content to influence their behavior. Hiring the best digital marketing company would be a smart move. Don't wait and pick the right one!