Content pruning is one of the strategies- that play a vital role in your website's SEO. Want to know how it came into play? Google released another fundamental algorithm upgrade on May 4, 2020, amid a pandemic and general chaos.
The May 2020 Core Update was the year's second major update. It also comes at a time when COVID-19 has had a significant impact on many users' search habits.
Website traffic increased significantly in verticals such as media, finance, food, and healthcare, while it decreased significantly in travel, transportation, and construction. This core upgrade appears to be in line with Google's increasing emphasis on high-quality material, freshness, and E-A-T.
The following is what Google had to say about Core Updates:
"They're intended to ensure that we're delivering on our aim to provide searchers with relevant and authoritative content."
It brings us to the content pruning topic. What happens if the information on your website is no longer accurate or relevant? Your website will most certainly struggle to rank organically, based on what we've seen with this recent core change.
If you have a lot of old blog articles, product pages, announcements, and so on your website, now is the time to "prune."
What is Content Pruning?
Content pruning is the process of eliminating low-performing or old content from your website's archives. It is the content that is no longer useful or relevant.
It's better to reduce the unhealthy growth than to let it lie stagnant because the content isn't doing your website any favors right now. Remember that not all outdated information is harmful; some might still be valuable and give your website authority. Content that is old, lacking in timely value, thin, or unpopular, on the other hand, has no place on your website.
For example, a post from 2012 regarding the Vine app (may it rest in peace) will be irrelevant in 2020. Alternatively, a post from 2014 with link-building advice would be out of date.
Consider these pieces of content to be dead weight.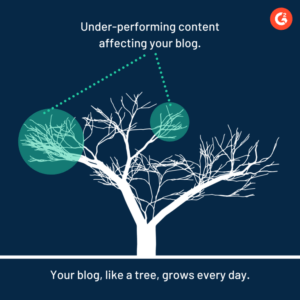 You must remove the balls and chains that are preventing you from achieving rankings in Google's SERPs to rise in the rankings. Pruning no longer has to mean throwing old articles into the garbage. Consolidating, updating, and adding to content are all examples of pruning. The Vine piece, for example, is almost certainly going for the recycling bin.
The 2014 link-building article may most likely be updated with new data and advice. You may also update and merge it into another SEO-related article that is performing well.
Simply put, content pruning is the process of removing the fat from your content collection to ensure that you are giving useful, timely information.
What are the benefits of content pruning?
Is content pruning important for SEO? Well, it is. We believe that Google's latest Core Update has heightened the importance of regular content pruning. Nonetheless, we encourage you to clean up old content for reasons other than search engine approval.
Here are the significant benefits of content pruning SEO:
#1 Take Advantage of Higher Overall Quality
Who doesn't want a better-looking website overall? Reduce the probability of users encountering embarrassing old content or information you would no longer support. Pruning ensures that you are proud of everything on your website, not just the content you're currently posting.
#2 Encourage a Better User Experience
When someone visits your website, you want them to find the best information you have right away. Visitors will find the exact resource they require if you have fewer posts – but ones that you are happy to share.
#3 More Purposeful Linking
You want to link to good content, whether you're linking to external sources or internally. Content pruning ensures that you are only linking to relevant and authoritative pages.
#4 Boost Your Crawl Budget
By pruning your content; you make it easier for Google bots to crawl your website. Google can index more of your content and make each crawl more meaningful by removing the "dead weight."
Carrying extra baggage on your website, as is a common theme in this post, will drag you down, as you work to gain rankings on the SERPs.
How to carry out content pruning to boost your website's SEO?
 Deleting old content SEO is important. Here are the points that will let you know how to conduct content pruning SEO:
Step#1: Determine What You'll Audit
Some older content is evergreen, which means it continues to attract organic traffic, and removing it is not a smart move.
However, you can update it with new statistics, examples, and tips. Other old posts could be contaminating your rank, and clogging up your website with low-quality content. Thus, you must determine what content you want to remove before starting the pruning process.
Step #2: Identify Your Low-Performance Pages
Take note of the pages that appear to be performing poorly once you have a good sense of your site's structure and what is still providing value.
It's critical to understand which pages are slowing down your site, whether they get a few clicks or are no longer relevant to your website. Analyze each piece of content on your site and make the best decision you can.
Step #3: Pull in Traffic & Backlink Data
Don't just assume you know which pages are underperforming; instead, conduct real analysis to understand traffic and backlinks better.
You can use Google Search Console and Google Analytics metrics in this step. In general, if a piece of content hasn't received any traffic/clicks in the last one to two years, prune it.
Step #4: Decide on whether to trash or improve posts
Now that you've determined which posts are problematic, it's time to make some choices.
You have two options now:
Improve your underperforming content
Drop the post completely
Either of these options works – it's up to you to decide whether your old content is worth cleaning up and updating.
Repurposing old content saves time over creating new content from scratch, but it entirely depends on your team's goals and workloads.
However, in some cases, you may be better off creating new content on similar subjects; but with more relevant and up-to-date data.
Keep track of content that will soon become outdated.
Always keep track of content that is bound to become outdated and plan updates for it. You can add a reminder to your calendar, but as the number of reminders and the size of your time increase, you should put this in a central place: a content calendar (opens in a new tab).
A word about removing content:
Keep in mind that even if you remove low-performing content, your organic traffic may suffer. As with disavowing links, proceed with caution and do not delete everything at once. Make it a staged process, beginning with the content that is performing the worst. Then, after a few weeks, see what happens before continuing with the pruning.
In a nutshell:
While some question whether we have the math to decode Google's algorithms truly, we know a few things. Google is increasingly concerned with information accuracy, relevance, and quality – as well as timeliness.
As the internet contains more inaccurate information than ever before, search engines are working overtime to prioritize websites that keep their content fresh and reliable. If you're wondering how to adapt to the latest core update and your site has a lot of content, our best advice is to prune it.
Remove the dead weight that has been holding you back and ensure that every aspect of your website complies with Google's most recent quality expectations.