Almost all marketers use WordPress as their website's CMS because it is simple to use and SEO-friendly right out of the box. Both of these statements are correct, but keep in mind that WordPress is only a content management system (CMS). So simply using WordPress isn't enough to get you noticed by search engines. Thus, it is important to consider WordPress SEO.
Fortunately, WordPress makes it extremely simple to implement many SEO best practices. Here in this article, we will discuss the helpful tips and practices that will help you with Website SEO.
1. Check your search engine visibility options:
In WordPress, there's a checkbox that, if checked, effectively kills your website's SEO by preventing Google from indexing your pages. And if Google is unable to index your pages, they will not rank.
You can find this under Settings > Reading > Search engine visibility:

If you want to have any chance of ranking, make sure this is unchecked.
2. Set Preferred Domain:
Google considers domain.com and www.domain.com separately, so it's critical to select a preferred version for your website. You can do this by going to Settings > General. Simply change the WordPress Address (URL) and Site Address (URL) to the version you want.
It doesn't matter which version you choose for a new website. However, if your pages are accessible via both URL versions, the version with the most backlinks is your best bet.
The beauty of WordPress is that it automatically redirects the other version to the preferred version, allowing search engines and visitors to only access your site through the preferred domain.
3. Permalinks Set Up:
Permalinks are the URL format for your posts and pages, and the "post name" option is typically the most SEO-friendly because it helps:
Make it clear what the page is about.

Keep URLs short to avoid them being truncated in search results.
If you're already using a different permalink structure, changing it may result in broken pages.
4. Make blog comments subject to manual approval:
It is one of the useful WordPress SEO tips.
Spammy blog comments are unlikely to result in penalties or major SEO issues because they are almost always Nofollowed. However, Google claims that it can still cause SEO issues for a variety of reasons.
Fortunately, WordPress makes it very simple to resolve this issue once and for all by giving users the option to require manual approval for all blog comments.
This can be done in Settings > Discussion > The following comments must be manually approved:

5. Use SEO-Friendly Theme:
Nowadays, almost all WordPress themes are responsive and mobile-friendly, so there's not much to worry about. What you should look for when selecting a theme is its performance.
If the theme is bloated with extraneous code and features, it will slow down your website. That's not good, given that Google has used page speed as a ranking factor for over a decade.
When selecting a theme, it's important to read the description to see what's included. If it has many features you won't use, it might not be the best option for you.
You can also run the theme demo through PageSpeed Insights to get a better idea of how fast it is.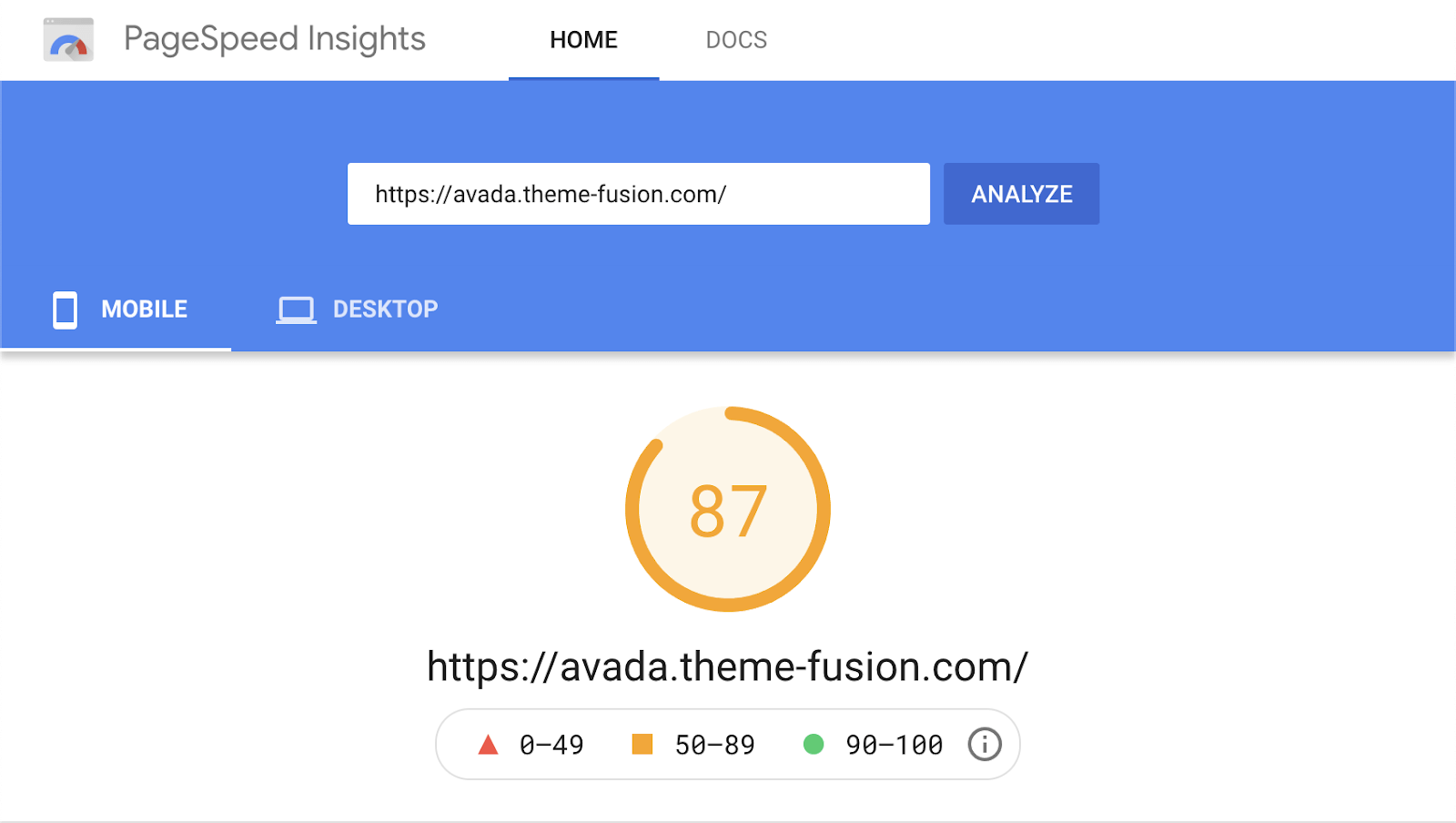 Having issues? Do not worry and take help from professionals.
6. Install an All-in-one SEO Plugin:
WordPress Plugins play an important role. With an all-in-one SEO plugin, you can extend WordPress's SEO functionality and make it easier to optimize aspects of your site. We use Yoast SEO, but there are numerous other options.
To install it, navigate to Plugins > Add New > Plugins > Plugins > Plugins > Plugins > Plugins > Look up "Yoast SEO" > Select Activate > Install should be clicked: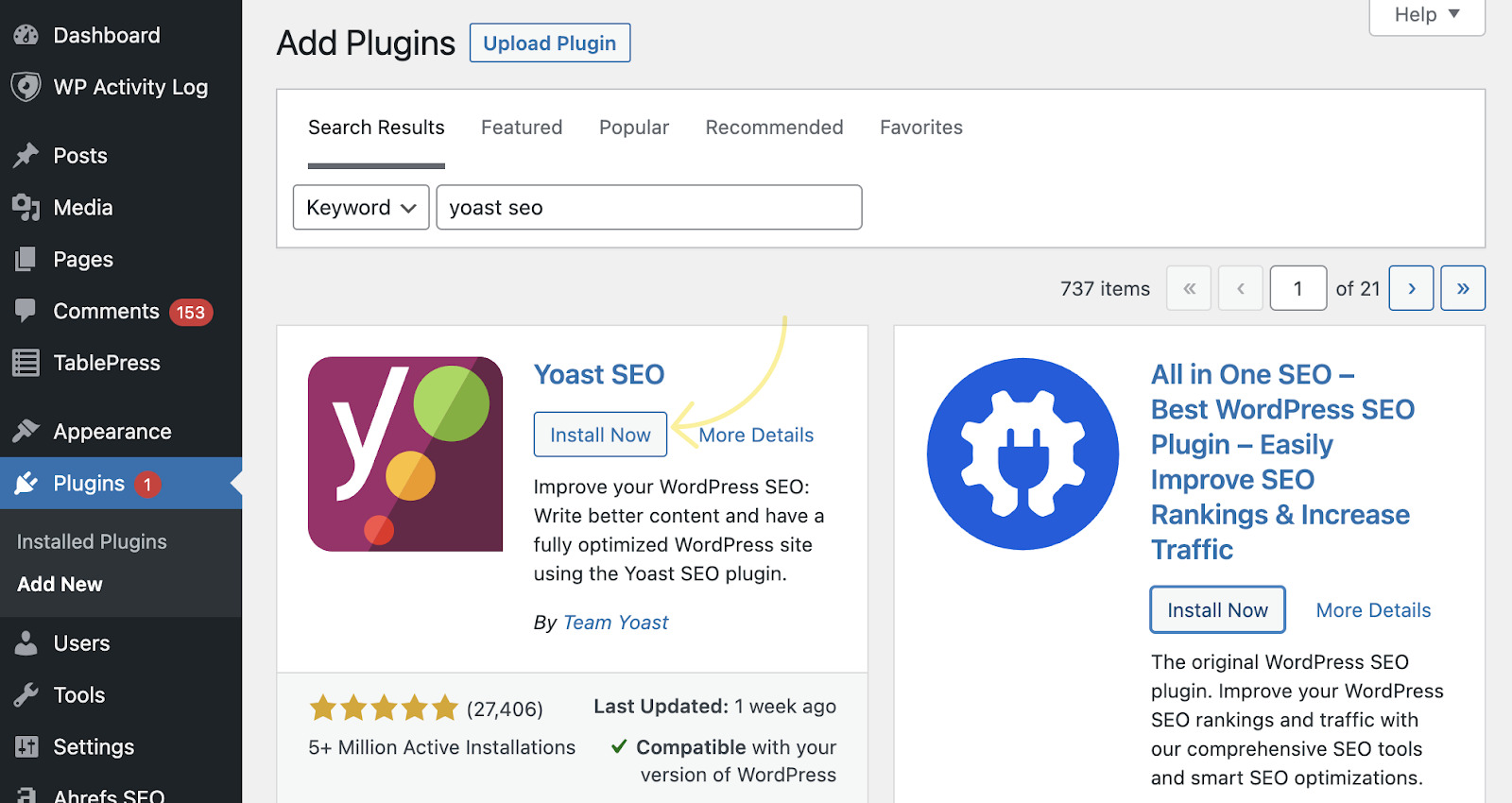 7. Generate a Sitemap:
Sitemaps are files that list the most important posts and pages on your website so that search engines can find them. You can use Yoast SEO for generating a sitemap. Make sure that option is turned on.
To do so, navigate to SEO > General > Features > Turn on "XML sitemaps":

8. Always exclude low-value content from indexing:
Allow Google to index only pages that are useful to searchers. Tag pages and format-based archives are rarely in this category, so it's best to exclude them from indexing.
To do so, navigate to SEO > Search Appearance > Taxonomies. Turn off "Show Tags in Search Results":

9. Always Use the Click Worthy Title:
Every post and page requires a title. Make sure that you use a catchy or click worthy title.
Allow Google to index only pages that are useful to searchers. Tag pages and format-based archives are rarely in this category, so it's best to exclude them from indexing.
To do so, navigate to SEO > Search Appearance > Taxonomies.
Your title both must entice visitors to click through to your page and accurately describe what the page is about. To put it another way, the title should be clickable but not clickbait. If you're having trouble coming up with something suitable, look at the SERP titles of the top-ranking pages for your target keyword, as these are frequently the same or similar to the page title.
10. Always Set an SEO-Friendly Slug:
WordPress sets the URL to the full title of the post or page by default. This is rarely ideal because it is usually long, and long URLs are truncated in search results.
Click "Edit," enter your primary keyword (or a close variation), and replace the spaces with dashes to create a more SEO-friendly URL.
11. Make Use of Headers:
Headers provide structure and assist visitors and search engines in understanding the hierarchy of your content.
To quickly and easily add relevant headers in WordPress, use the WYSIWYG editor. Simply select "Paragraph" from the dropdown menu, and you'll be presented with six header options: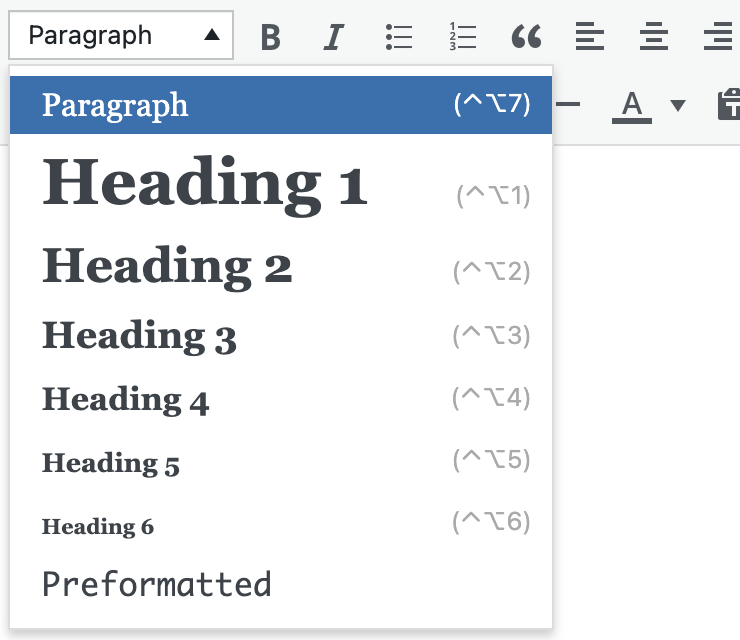 Because the post title is usually the first header (H1) in most WordPress themes, it's best to use H2-H6 in the content itself.
12. Always Add Internal Links:
Internal links direct visitors to different pages and posts on your website. They are essential for SEO because they help with:
Keeping your visitors on your website.
Increase the "authority" of your other content and rank it higher.
13. Add Alt Text to Images:
Alt-text is useful because it:
Tells Google about the images, which may help them rank higher in Google Images.
Screen readers make it easier for visually impaired visitors to navigate the site.
If an image breaks, this function replaces it on the page.
Fill in the "alt text" field when uploading an image in WordPress to add alt text: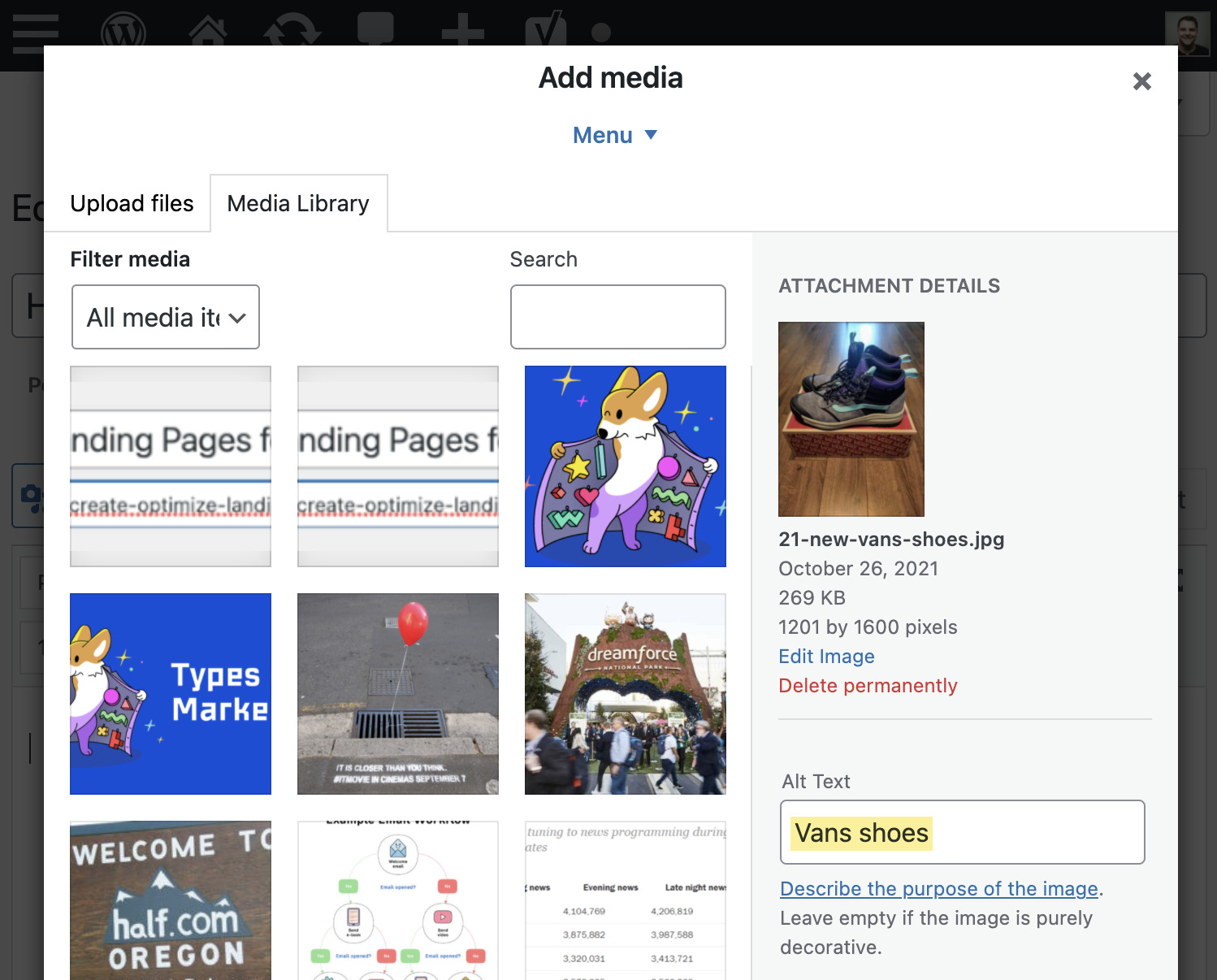 14. Use of Compelling Title Tag:
In most cases, Google will use your title tag as the snippet in the search results.
By default, Yoast sets your title tag to the title of your post or page. This is usually acceptable because you should have already created an enticing post title. However, if the title is too long, it's worth manually pasting it in to ensure it doesn't truncate.
If it turns green, you're good to go. It's too long if it's highlighted in red.

You can usually solve the problem of a long title tag by removing any unnecessary information. Simple ways to accomplish this include:
Remove the brackets.

Do not use unnecessary words.

Rephrasing.
16. Use of Compelling Meta Description:
Although meta descriptions aren't a direct Google ranking factor, they are frequently used for the search result snippet.
As a result, it's critical to craft a compelling meta description that complements your title and entices people to click.
Here are a few pointers to get you started:
Increase your search intent.

Make use of active voice.

Always keep it to less than 120 characters.
17. Nest Pages in Subfolders:
If your permalink structure is set to post name, your page and post URLs will look like this:
domain.com/post-name
domain.com/page-name
Pages, on the other hand, can be created at different levels by using subfolders.
Assume you run a digital marketing agency that provides three services: SEO, PPC, and social media marketing.
Here's the best way to go about it:
Make a "Services" landing page with a list of the services you offer.
Create separate pages for each service you provide.
From your "Services" page, link to each service page.
By default, your URL structure will look like this:
domain.com/services/
domain.com/seo/
domain.com/ppc/
domain.com/social-media-marketing/
That appears to be satisfactory. However, it is preferable to nest the individual service pages under the "/services/" subfolder as follows:
domain.com/services/
domain.com/services/seo/
domain.com/services/ppc/
domain.com/services/social-media-marketing/
That's simple in WordPress. Simply select the "Services" page from the "Parent" dropdown on the page editor. Try this WordPress SEO tip now.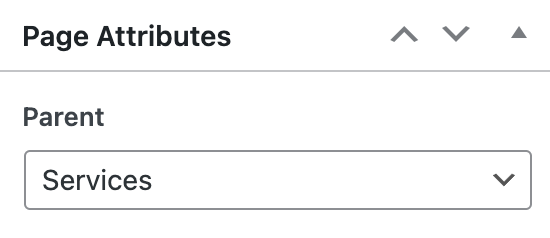 18. Make Use of Short Pixel:
ShortPixel compresses and optimizes the images you upload to WordPress automatically. This reduces the size of the image files, reduces the strain on your server, and speeds up the loading time for your visitors.
Install the plugin, activate it, and then enter your API key in the settings to get started.
It should be noted that ShortPixel is a freemium plugin. If you want to compress more than 100 images per month, you'll need to purchase credits or sign up for a paid plan. This only costs a few dollars and, in my opinion, is well worth the money.
If you have the money for a paid plan, it's also worth looking into the option to bulk optimize the images you've already uploaded to WordPress.

In a Nutshell:
WordPress is flexible, simple to use, and provides a solid base for SEO. Using above-mentioned WordPress SEO tips and practices will surely make your work easy. So, do not think much. Try the tips mentioned in the article to get the best outcomes. When it comes to using WordPress, you might need professionals to help. Thus, hiring a digital marketing firm would be a great option. It has a team of experts who always consider all the factors and ensure that you get the best results.