Following online Brand Building strategies is quite beneficial.
Consumer branded goods marketing is all about reaching and delighting your customers at the right time and place. Consumer goods marketers are increasingly relying on online and social media marketing to build their brands.
Because customers' tastes and expectations constantly change, B2C marketing is an ever-evolving discipline. With the rapid digitalization, we've seen, particularly in the last two years, the pace of change has accelerated, making it difficult for marketers to keep up.
Furthermore, in a competitive marketplace, businesses face the challenge of growing their brand while also generating leads and sales. If you can't move prospects down your marketing funnel; a large market share doesn't necessarily translate into a high turnover.
Use Race Framework to Optimize Consumer branded Goods Marketing Funnel:
Many consumer-facing businesses are losing customers or passing up opportunities to increase their ROI because they lack a structured marketing strategy. As a result, we recommend that you use the RACE Framework to plan, manage, and optimize your marketing strategy.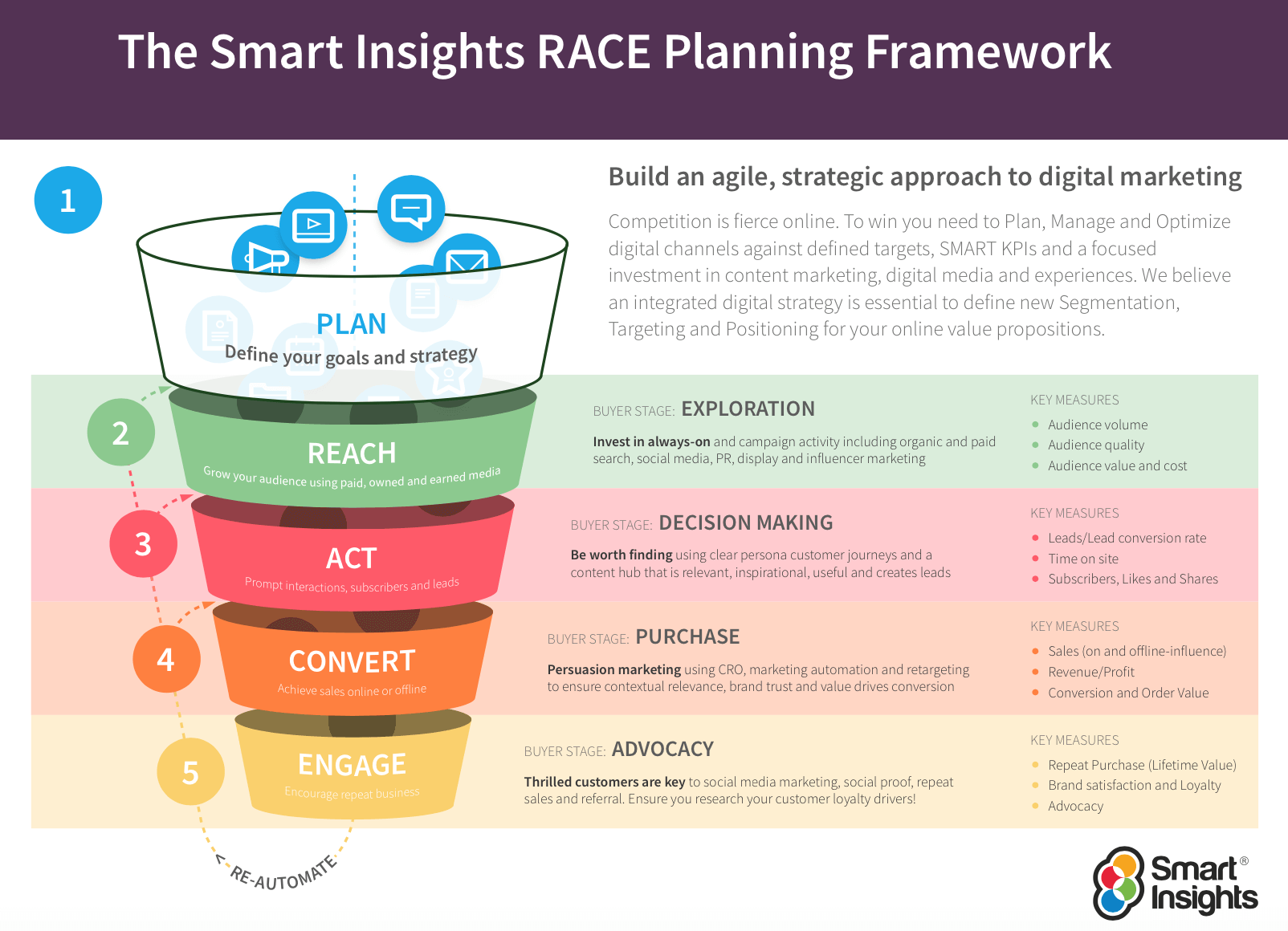 Our simple 5-step strategy framework for marketing leaders simplifies data-driven marketing into a streamlined sales funnel, guiding prospects from the point of discovery to conversion and repeat purchase. Using Race Framework will give you the best and desired results.
3 Brand Building Strategies to Attract High-value Customers
The key to creating a successful brand is to plan your 'reach' tactics to attract the right customers. The good news is that with unprecedented levels of digital data and segmentation available to marketers right now, it has never been easier. In this blog, we recommend three brand-building strategies for growing businesses:
#1 Social Commerce:
Social commerce is the intersection of social media and e-commerce. Social commerce allows for sales to take place on social media platforms.
It transforms social from a discovery channel to a sales channel primed to encourage purchases. It is a huge deal for marketers looking to build their brand on social media, and an excellent opportunity to track and convert ROI from the social media channel.
Importance of Social Commerce:
According to Finder research, the product discovery element accounted for a 21% increase in time spent on social media in 2020.
Between 2021 and 2028, the global market is expected to grow at a 28 percent annual rate to nearly $3.4 trillion, making it an important trend for brands to understand.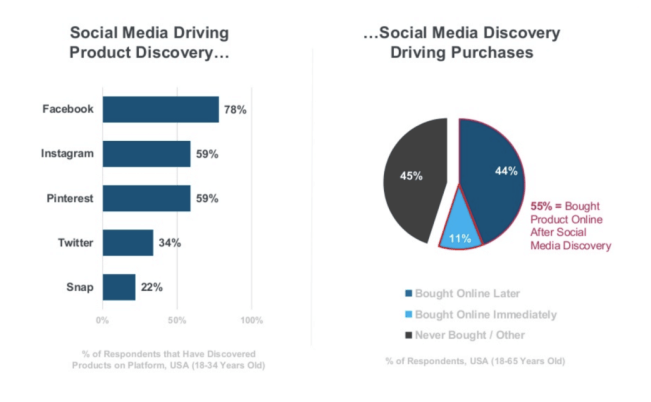 Furthermore, in June 2021, 48% of US social media users reported purchasing something through a social media platform in the previous 12 months.
#2 User-Generated Content
User-generated content (UGC) is not a strategy for brands to post rich, engaging content to pique the interest of potential buyers as part of a cohesive digital strategy.
User-generated content is the Holy Grail for marketers looking to build their brand on social media. This is particularly important in industries where consumers have little faith in carefully crafted brand messaging.
Incorporating video into more communications creates the impression that the brand is open to dialogue. Using UGC, consumers can see their peers using or interacting with a product in the way that they would like to. A dedicated hashtag is an obvious way to encourage UGC, indicating how users can share directly with the brand across all communication touch points.
Importance of User-Generated Content
It is one of the most excellent and useful brand building strategies.
Did you know that earned media is trusted by more than 92 percent of consumers more than other forms of advertising?
Consumers are wary of polished marketing messages, whereas UGC demonstrates authenticity. Authenticity is a key trend in consumer marketing; whether it's values like sustainability, locality, or social conscience, it's a strong draw for today's consumers.
Divide your content into paid, owned, and earned categories when planning media for brand-building strategies; UGC falls into the 'earned' media category.
#3 Shoppable Marketing
It is one of the best marketing strategies. Shoppable marketing entails combining your key messages with marketing technology that makes it as simple as possible for customers to 'shop' for your consumer-branded goods at any time and from any location.
Shoppable social media channels allow your customers to discover, interact with, and buy all in one place. Shoppable Instagram feeds, for example, facilitate an end-to-end conversion journey:
-Instagram shops:
A customizable storefront that allows people to purchase directly from business profiles. You can visit the business account and directly buy the stuff from there.
-Instagram shopping Tags:
Tags that feature products from a catalog can direct customers to buy those products from a website or in-app. This features also allows the users to visit the business profile to see all of its products without leaving the app.
Instagram Explore Shop:
An Explore tab that allows users to browse tagged shoppable content from brands and creators. In this way,, they can explore more stuff and buy accordingly.
Collections on Instagram:
A product collection that businesses can curate for their store to help customers find the products they love.
Product Detail Page on Instagram:
A product-specific page that displays pertinent information about an item. These specifics are taken from your product catalog.
Product Tags in Instagram Ads:
Businesses can increase the reach of their shoppable content by creating new ads with product tags or boosting existing shopping posts in Ads Manager and the Instagram app. These advertisements increase conversions, link clicks, and engagement.
These features are currently available in most territories, but checkout is only available to customers in the United States and a limited number of businesses.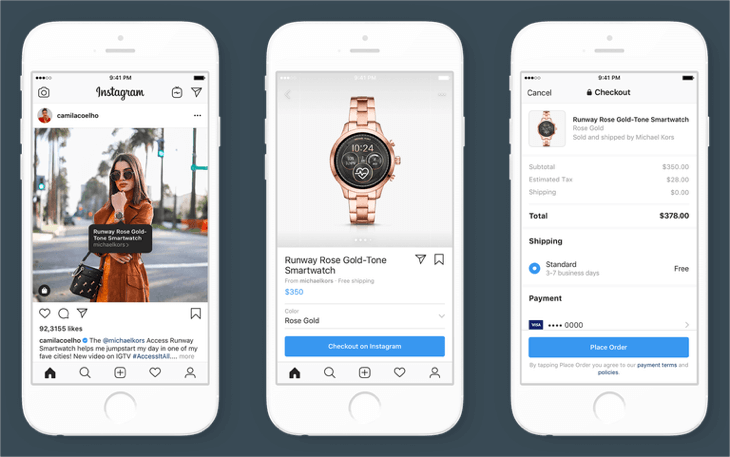 Importance of Shoppable Marketing Strategy
If you want to keep your brand's market share, you can't ignore Instagram shopping and other shoppable social media:
Every month, 130 million Instagram users interact with shopping posts.

Every month, more than half of all Instagram accounts use Explore.

55 percent of fashion shoppers have purchased after seeing a post on Instagram from a creator.
Each of the major social media platforms has expanded its social shopping offering. There are other tools available as well. More information is provided below.
PopShop Live:
Using smartphones, brands can set up a pop-up shop, curate inventory and schedule and host live shows.
Amazon Live:
Amazon Live allows brands and influencers to connect with interested shoppers in real-time via interactive shoppable videos.
MikMak-
A multichannel marketing platform with a built-in 'where to buy' feature that connects customers to over 200 retailers. Users can complete their purchases without leaving the platform, resulting in a more seamless shopping experience.
Buywith –
A screen-sharing video shopping platform that allows influencers to shop with their followers. Buywith is a screen-sharing, text-based, or video-based shopping experience.
Takeaway
If you want to expand your consumer-branded goods company in 2022, these three online Brand Building strategies will help you reach and convert high-value customers for your brand. Why wait? Use them and take your brand to the next level. Want great outcomes. Hire the best digital company now!