What better time to look ahead than at the end of the year?
The pandemic has come with numerous obstacles in 2020 and 2021. However, it has also provided countless opportunities, spawned incredible innovations, accelerated technological trends, and resulted in a complete shift in the way businesses and customers engage. The future of marketing may be uncertain, but one thing is certain: it will not be dull.
You won't want to miss these exciting figures on what's next for marketers across the board.
Let's check out these amazing key marketing statistics in the below-mentioned points:
#1 A search engine is the starting point for 93% of all internet experiences.
It isn't a brand-new concept. According to Forbes, 93 percent of all online experiences begin with a search. The fact is, if you haven't already started to take search engine optimization seriously, now is the moment to do so. Over the last few years, the globe has gotten increasingly digital. If they haven't already, brands that don't focus on attracting visitors through organic search will quickly become invisible.
Recent brand behavior indicates that, for the most part, marketers recognize the importance of content in their strategy. According to a 2020 survey by Statista, since the start of the pandemic, the vast majority of marketers have increased their reliance on content such as social media posts, blogs, and videos. No doubt; it is the future of marketing.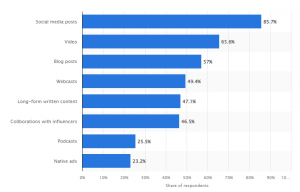 Consumers are exploring online for information on brands they want to interact with more than ever before, and they're starting with search. It is not that offline techniques will become obsolete (they won't), but businesses that want to attract new customers should make sure they can be found on Google.
#2 By the end of 2022, the video will account for 82 percent of all web traffic.
If the content is king, video is the crown that rests upon it. By the end of next year, the video will account for 82 percent of all online traffic, according to Cisco. Consumers choose video content over all others.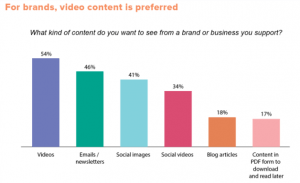 In response to consumer demand, exciting video marketing trends are emerging. For Gen-Zers and influencers, live video, social media stories, vlogging, and smartphone-produced videos are nothing new, but for brands marketing to customers? It's a completely different universe.
The great thing about video is that it allows brands to become more relevant to their customers and to highlight their brand personality in a way that has never been possible before. Even the most traditional (and, dare we say, boring) businesses can utilize video to personalize their products and demonstrate why they're useful to potential customers.
#3 71 percent of customers would rather speak than type their questions.
Hello, Siri? When Siri initially arrived a decade ago, we all joked about it. Would people start strolling around talking to a smartphone bot daily?
Today, we're talking to our cars, TV remotes, home speakers, and, of course, our cellphones. Approximately three-quarters of today's consumers would rather speak than type their questions.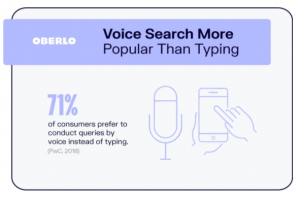 So, what does this mean for marketers of content? What does this signify for marketing in the future?
Brands will need to make sure their content is voice-optimized. There are a couple of options:
Keywords to use in your question-
The top two voice search trigger words are "how" and "what." Target questions that people might ask when looking for the products and services you provide in your keyword strategy.
Make content conversational-
When making a voice search, people search as if they were talking. Use filler words like "the," "to," and "for" to build whole phrases and sentences to align your content with this form of searching.
Use long-tail keywords-
As it's easy to utilize voice search people become more specific. You may rank for these types of inquiries by using long-tail keywords that are lengthier and more comprehensive.
#4 86 percent of buyers are willing to spend extra for a better customer experience.
Brands that commit to providing a comprehensive, optimized customer experience will have a bright future in marketing. Consumers now have more options, better convenience, and deeper involvement than ever before. Omnichannel commerce, AI-powered customer service, and hyper-personalized communication are just a few examples of how brands have improved their customer experience.
Customer expectations will only continue to rise now that it is available.
86 percent of shoppers today believe they are willing to pay more for products and services that provide a superior experience. It means that brands who have previously relied on low prices as their primary competitive edge will have to rethink how they keep customers.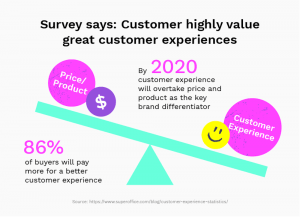 #5 Micro-influencers account for 65% of all influencers (and 77 percent of brands prefer to work with them)
We've all spent a lot of time at home lately, but unless you've been living under a rock, you're aware that TikTok isn't only for teens anymore. More than half of the platform's 1 billion+ users are over 30 years old. Brands are increasingly using TikTok to communicate with customers, and influencers are reaping the benefits of product promotion.
While you would think that celebrities and other influencers with millions of followers are where the money is (and they are), the most trusted influencers are those with just a few hundred thousand followers or fewer.
Micro-influencers engage with people at a far higher rate than their mega influencer (1 million+ follower) peers. Brands are taking notice, with 77 percent preferring to deal with micro-influencers because they are more engaged with and relatable to their target audiences.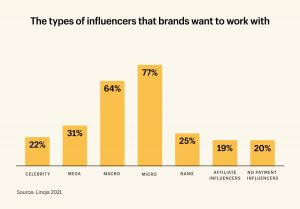 Every platform has micro-influencers, but none more so than TikTok, where product promotions are easily interwoven into video content in authentic ways. It's easy to see why brands are turning to micro-influencers for a different strategy in a world when online users can detect an ad in seconds (and usually keep scrolling).
#6 One-third of Americans listen to podcasts regularly.
For a long time, podcasts existed on the fringes of the media landscape. Then came programs like This American Life and Serial, which told tales and acquired a lot of traction. Now? People listen to podcasts on different topics, including true crime, sports, religion, politics, and news.
Brands are jumping in today, covering issues that demonstrate their authority, broaden their reach, improve exposure, and cultivate a loyal following. The Growth Show, hosted by HubSpot, is a perfect example of this. It's a weekly show that looks at inspiring ways people are growing their businesses.
Podcasts are also reasonably priced. Although high-end podcast production is available- all you need to get started and make a show with high-quality audio is a computer and a microphone. Most importantly, if you're covering interesting topics, your audience won't expect you to be NPR. It's all about the value, just like any other type of material.
Conclusion:
We may not know exactly what is marketing in the future. But one thing is certain: to grow, brands must publish consistent, creative, and optimized content. In this blog, we have discussed the current and future trends of marketing or key stats that indicate marketing's future. Following the points mentioned above will surely help your brand grow leading to more profit. Just make sure that you use these marketing trends wisely to get the best and desired outcomes. One of the best things is to hire the best digital marketing company to get the profitable results.